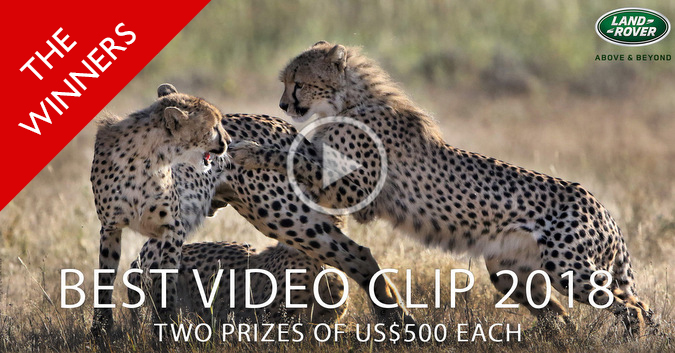 The time has come to announce the winners of our Best Video Clip of 2018! With over 350 videos clips entered, the judges had a tough task of watching and selecting some brilliant clips showing the best African wildlife has to offer. We selected a staggering 131 video clips that we felt displayed Africa at her best, and each stood a chance of winning one of two prizes.
Two prizes of US$500 each are up for grabs – one going to our overall winner (determined by the AG judges), and the other to our 'Audience' Favourite (decided by the public, via voting).
So without further ado, here are the winners and the highly commendable runners-up!
2018 BEST VIDEO CLIP WINNER
• Dry season crowds at an Etosha waterhole, Namibia © Pieter Botha
Comment from the judges:
This exceptional clip is what 'slow safari' is all about – no drama or viral events – just Africa's wildlife doing its thing. Etosha's waterholes at the end of the dry winter season are often very busy, but even seasoned safari-goers will be amazed at the sheer volume of wildlife gathered to drink in this clip.  
---
TWO HIGHLY COMMENDABLE RUNNERS-UP
• Five lions fighting in Kruger National Park, South Africa © Jennifer Kucherawy
Comment from the judges:
This brief, powerful clip goes to the core of what big male lions are all about. Far from the dignified Disney characters we were misinformed about as kids, male lions are tough, stoic warriors with a fierce drive to spread their genes, dominate territory and beat the often insurmountable odds of survival in Africa's wild places.
---
• Leopard mother and cub playing at Londolozi Private Game Reserve, South Africa © Nick Kleer
Comment from the judges:
This clip has a 'cuteness alert' warning label! This tiny leopard cub tests mom's patience with boundless energy, sharp teeth and rodeo-style antics. Hunting and fighting skills are honed during these important early days, and the cub will move onto stalking insects, birds and other small creatures before being coached onto larger prey species.
---
2018 AUDIENCE FAVOURITE – as judged by the public
Elephants taking a mud bath © Matrishva Vyas (9163 votes)
---
Congratulations to our winners and to the highly commendable runners-up! And thank you to all who entered, it has been an honour judging your fantastic video clips and sharing them with our worldwide audience.
https://rhulanisafaris.com/wp-content/uploads/2019/01/FeatureImage-1.jpg
353
675
Armand Grobler
https://rhulanisafaris.com/wp-content/uploads/2019/12/Watermark-Logo-Rhulani-Safaris-White-1-300x226.png
Armand Grobler
2019-01-15 10:37:29
2023-03-27 11:20:42
Africa Geographic: The winners of our Best Video Clip 2018 competition